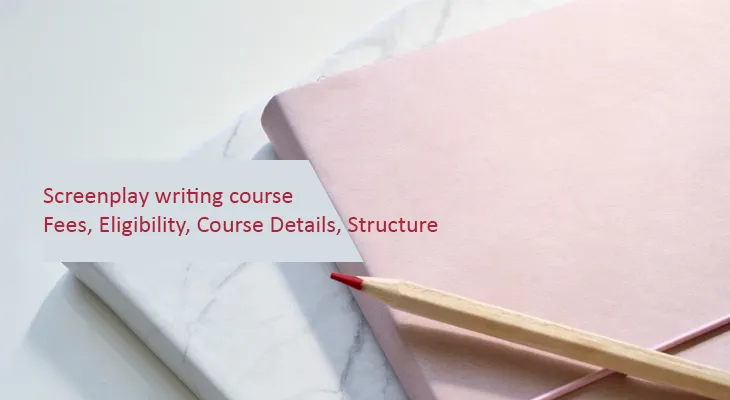 What is Screenplay Writing ?
Screenplay writing is the process of crafting a script specifically designed for film, television, or other visual media. A screenplay serves as a blueprint for a production, providing a detailed description of the story, characters, dialogue, and actions. It is a specialized form of writing that follows specific formatting guidelines and techniques to effectively convey the visual and narrative elements of a story.
Key elements of a screenplay include:
1. Story: A screenplay begins with a compelling story idea or concept. This could be an original idea or an adaptation of a book, play, or real-life events.
2. Structure: Screenplays typically follow a three-act structure, consisting of the setup, confrontation, and resolution. Each act has its own purpose and builds the narrative tension.
3. Scenes and Sequences: Screenplays are divided into scenes and sequences, each representing a specific location, time, and event. Sequences group related scenes that contribute to a larger narrative arc.
4. Characters: Characters in a screenplay are developed through physical descriptions, dialogue, and actions. They drive the story forward and their conflicts and relationships create dramatic tension.
5. Dialogue: Dialogue is a vital element of a screenplay, revealing character traits, advancing the plot, and providing insights into relationships. It should be concise, realistic, and reflect the character's voice.
6. Action and Description: Screenplays utilize action lines to describe the visual elements, settings, and actions taking place within a scene. It is important to be clear and concise while conveying the visual and emotional aspects.
7. Formatting: Screenplays follow specific formatting guidelines to ensure readability and uniformity. This includes elements like scene headings, action lines, character names, dialogue, and transitions.
8. Visual and Cinematic Language: Screenplays employ techniques to enhance the visual and cinematic experience, such as camera angles, shots, and transitions. These elements help create a vivid and engaging story on screen.
So What Does A Scriptwriter Write?
Full length films, for example, the ones you can go find in the theater
Short movies like the ones submitted to film celebrations
TV series. For example Satire Shows, Drama, Operas, And Even Most Of Today's "Existence" Shows
Web series, which are frequently transferred to YouTube, Mx Player, Amazon Prime,Etc.
TV and radio ads, everything being equal, length and content no matter what the medium they are communicated on
Stage Plays, Theater, Street Play
PC games. Indeed, even your number one computer game including vehicle robbery or shooting outsiders actually needs a content.
Scriptwriting requires the essayist to foster practical PLOT LINES, credible characters, and SCENE-BY-SCENE OUTLINES OF THE STORIES they're composing. It means a lot to remember that screenplays, generally, are visual and the characters' activities push the story ahead while their Dialog SUPPORTS THE ACTIONS.
Career Scope and Job Profile
There are various open doors for Script Writing. Many perceived creation houses and promoting firms recruit script Writers. A portion of the gig profiles are referenced beneath.
Film Writer
A film essayist is one who composes a fiction or genuine story for diversion as a film.
The essential obligation of a Movie Writer is to explore and foster thoughts for film screenplays. Their undertaking is to wind around together visual components inside plot and exchange. Film essayist Average Salary-INR 3,50,000
Script Writer
A Script Writer is one who rehearses the art of Script composing. A Script Writer makes a story and describes course of everything from Sitcoms, Cartoons To Commercials Advertisements.
Script Writer work is to compose Dialogs for the play. Composes the play. In light of the content arrangement of the play is made. They work with Directors and alter and change the Script on a case by case basis.
Script Writer Average Salary-INR 2,00,000
Content Developer
Content Developers are individuals who do the examination, compose and alter online substance for the clients and organizations. Their responsibility is to compose blog entry, clients duplicates and so on. A substance Developer should know about SEO and HTML.
Content Developer Average Salary-INR 2,88,933
Content Writer
Content essayist are expected in each field. Their fundamental occupation is to compose the substance as coordinated by organizations. Content Writers compose blog entry, articles, site content and so on. Content essayists ought to be innovative and know about sentence, major areas of strength for structure.
Content Writer Average Salary-INR 3,80,000
Fees and Eligibility
The fees and eligibility for screenplay writing courses can vary depending on the institution, location, and the level of the course (e.g., introductory, intermediate, advanced). Here are some general guidelines:
Fees: The fees for screenplay writing courses can range from a few hundred dollars to several thousand dollars. It depends on the duration, intensity, and reputation of the course. Some institutions offer online courses, which may have different fee structures compared to in-person classes.
Eligibility: Most screenplay writing courses are open to individuals of all backgrounds and educational levels. There is typically no specific educational qualification required to enroll in a screenplay writing course. These courses are designed for aspiring writers, filmmakers, or anyone interested in learning the art and craft of screenwriting. Some advanced or specialized courses may have prerequisites or require prior experience in writing or the film industry.
Colleges for Offline Script Writing Course Certificates
| College Name | Duration | FEES |
| --- | --- | --- |
| YMCA, Delhi | 2 months | INR 21,000 |
| School of Broadcasting and Communication, Mumbai | 3 months | INR 35,000 |
| Delhi School of Communication, Delhi | 6 months | INR 40,000 |
| Azaz Rizvi College of Journalism and Mass Communication, Lucknow | 3 months | INR 18,000 |
| Institute of Mass Communication Film and Television Studies, Kolkata | 6 months | INR 20,000 |
| DICE VFS School of Entertainment Arts, Mumbai | 11 months | INR 4,30,000 |
| Annapurna College of Film and Media, Hyderabad | 12 days | INR 25,000 |