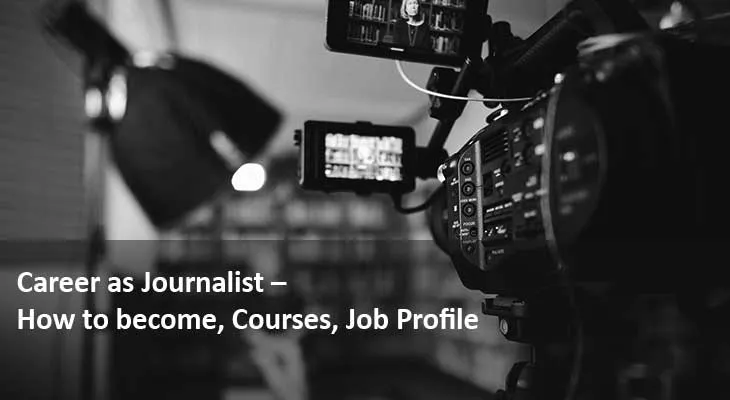 Introduction
Journalism is the field of knowledge and information which provide accurate and credible information to the public. The work of a journalist is to gather information from all over the world. They act as mediators between the public and the ruling authority although they are the watchdogs of the country and also known as the fourth pillar of democracy. If you are a good speaker and writer with great awareness of the current affairs of the world. This field is meant for you. As all you need in this field is a great command of both the languages firstly your mother tongue Hindi and secondly English which is used all over the world. The courses in the journalism field will make you a professional journalist.
The field is categorized into three different parts print, broadcast, and digital. Whatever medium you will choose there are a few aspiring steps to becoming an expert and professional journalist. So, let's start
So, let's explore the field of journalism in brief.
How to become a journalist?
Step 1. Obtain qualification: In this profession, you may not need a certain degree but it will make your ready for the competition present in this field. The programs in the college and institution will work on your weak points and mistakes you do in the field and make you more familiar about this profession. The professional degree from the best college will trained you with practical session which ensures that you are ready to become a future reporter or upcoming actor in the field of media.
Step 2. Find a traineeship: after you complete your professional degree. The institution provides you with internship in the media houses. It is the best way to gain the experience from the real media personality who is working in various desks of the newsroom observe the work of each department whether it is in input or output desk. Internships and placements are the entry gates for your jobs in the field of journalism and if you perform well in this field the channel will place you as the permanent employ in the channel. It will be a great kickstart for you to setup your profession as the future journalist.
Step 3. Flourish your writing skills: To become a future journalist your writing skills should be perfect. Blogging and content writer internships are the perfect way to develop your skills in writing. Write about current events and news occurring in the country develop your talent and it will make you one step ahead to build your profession.
Step 4. Establish connection: The essential part of this medium is to build a connection in every department whether it's reporting, anchoring
, video editing and other input and output desk department employs. The experience and knowledge of these employ will prior you to gain more experiencing. Make a friendly relation with everyone employs and create some good links so they will help you in future. Remember the more you make the networks the chances to establish your career will be more as they prefer your references in their news channel and media houses.
These are some crucial steps you need to keep in mind to become a successful journalist in future. Now let's know further in detail the courses present in journalism field.
Courses
In the field of journalism usually bachelor and master are considered as a major degree whereas student can prefer diploma courses in journalism profession. A student has a option to prefer master in journalism after taking different subject in their bachelor's degree.
DIPOLOMA IN JOURNALISM
Diploma in journalism is 2 years course that provides you various eruption in writing, for newspaper magazines and new channels researching about the news and the most essential learning is the communication they will guide to the proper format of speaking in the news channel.
A student who passed out its 12 standards with 50% marks with acknowledged board can purse this degree.
Many colleges conduct entrance exam or personal interview with the students for seeking admission in the college for diploma degree where few colleges gave admission to the students on the basis of their merit.
The main entrance exam is conducted by Indian institute of mass communication.
The courses fee lies between INR 10,000 to 5 Lacs.
POST DIPOLOMA IN JOURANLISM
Post diploma in journalism is 1year course that provides you to learn various skills such as current occurrence in the world with proper knowledge and assessment of practical learning.
It is applicable after the bachelor's degree and only pursue this course if you score more than 50 percent in their graduation.
Admission in the college is done by on the merit bases or it totally depend on the college which form of admission they want to conduct.
The courses fee lies between INR 75000 to 3,00,000.
BA Journalism
Bachelors in arts with journalism is 3-year course. It is an undergraduate course that teaches us the discipline and arts that needed in the media industry
A student above 50 percent marks in 12th standards are eligible to take admission.
The admission is totally depended on the college which form they want to conduct whether to take entrance exam, take personal interview or on merit basis.
The course fees lie between INR 20,000 to 100,000.
BJMC Course
Bachelors in journalism and mass communication is also 3year undergraduate course that aware us with latest trends and develop a writing skill that is much needs in the media industry.
Eligibility for this course is to obtain above 50 marks from the acknowledged board in 12th
The admission is totally depended on the institutes.
The course fees in higher institutes are above 3 lakhs.
MA Journalism
Masters in journalism and mass communication is 2year course after getting graduate from journalism. It is degree that give deep research and knowledge about media works and growth in this field.
Eligibility for this course is to graduate from the field of journalism or any other field.
The admission in this degree was in the form of entrance exam.
MJMC Course
Masters in journalism and mass communication is a 2 year post graduate course. It introduces your various section of journalism newspaper, magazine, radio etc.
Student must have bachelor in journalism and mass communication from acknowledged board and at least score more then 50 %.
Admission is totally depended on the college which form of admission they want to conduct.
The fees lie between 50000 to 300000.
SALARY IN JOURNALISM
As a different profiles as different salary. Any profession will give u salary from INR 50000 to INR 40000 but you get your handsome salary only when you are expertise in this field.
JOBS AND CAREER IN JOURNALISM
As a journalism you have various option to opt people think that journalism means anchoring but it is just a rumour journalism is having various option. So, lets explore the various jobs present in this profession and you can choose your option which is best suitable for you
Reporter– reporter works means gathering the information from different parts of the world. There are different beats of reporter which includes investigating reporting, court reporting, political reporting, and fashion reporting etc. it is the best suitable field if you are interested in the researching parts.
Editor andSub-Editor .editors has one of the most crucial responsibility of the journalism field. The work of editor to correct the news provide by the reporter. It is the upper level job which provides you good remuneration.
Feature Writer This writer works on the specified news which covers specified topic. They works on the magazines, newspaper or online publication. They cover a long form news which indicates a major reasons of the country.
Social Media Specialist this job is emerging nowadays as the social media become the second platform for news .In this people are maintaining the sites and increase the brand value of the particular product or maintain the position of the company on social media platform.
Photo Journalist this job is specifically for the photographer who love to click photographs. They collect information from different region through their picture clicking skills. Many media needs photo journalists and pay them lump sum amount because of their talents. These are one of the major jobs emerging in journalism field which sets you future and pay you higher salary according to your talents.